Ciena Ranked India's Top Optical Networking & Converged Networks Company of 2019: Voice & Data Survey
Voice & Data's 24th annual India Telecom Industry Survey is out, and Ciena is again number one in the Optical Networks & Converged Networks Segment. Ciena's Sandeep Goel has the details.
In the Optical Networking and Converged Networks category, the independent research team ranked Ciena the top vendor in percent of market share by revenue, as well as the fastest growing out of the top 3 vendors. Ciena's revenue in this category grew 22% over the year of the survey, according to the researchers.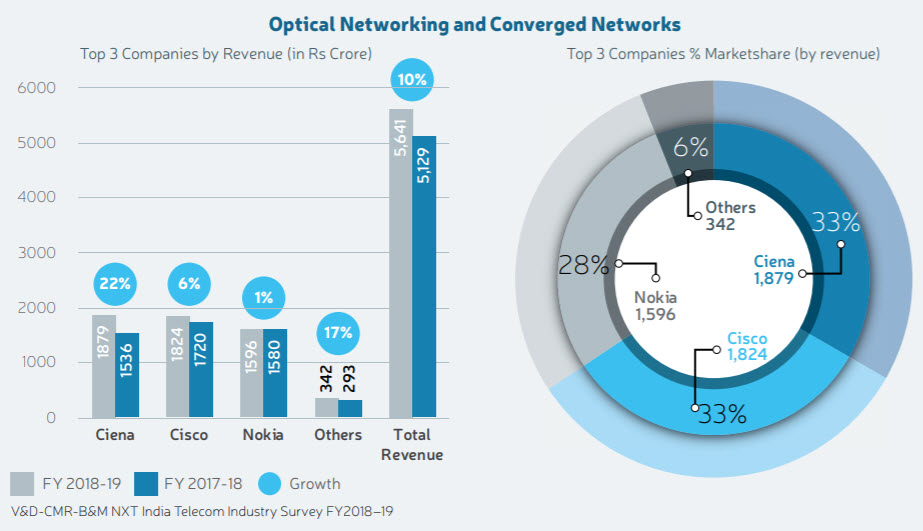 "Ciena is honored to see our commitment to customers here, of more than 15 years, translate into market leadership in Optical Networking and Converged Networks," said Rajesh Nambiar, Chairman and President, Ciena India. "With India on track for the greatest economic growth globally, we look forward to continuing to innovate on the metro, regional and long-haul connectivity that makes Digital India and 5G possible."
"To keep up with the rapidly evolving demand from users, operators are taking steps to strengthen their networks. They are investing in packet optical, advanced software and edge computing innovations to transform their networks to be more agile, flexible and programmable. This is opening up several opportunities for Ciena, and we are gearing up to play a bigger role in the build-out of networks of the future" said Ryan Perera, Vice President & General Manager, Ciena India.
The annual survey was conducted by an independent and experienced research team, led by independent industry analyst Deepak Kumar, who has been associated with Voice & Data for over a decade, and is also the head of a research and advisory firm B&M Nxt. The study findings were published in the October and November 2019 issues of the Voice & Data magazine.