Ciena leads 5G discussions at India Mobile Congress 2022 and announces local manufacturing along with India's 5G launch
Ciena had a leading presence at IMC 2022, and after a successful 5G launch in India, by PM Narendra Modi, here are some recommendations on how you can create a successful 5G network ecosystem covering business models, use cases, the role of edge, NFV and virtualization, NaaS, and consumer affordability.
5G has been the apex theme at all recent India Mobile Congress (IMC) gatherings. However, this year was different. 5G services were officially launched by India's Prime Minister, Shri Narendra Modi, at the sixth edition of IMC 2022 held at Pragati Maidan, New Delhi.
Students from remote India and workers from Delhi Metro tunnel connected live with the PM on a 5G network in a crystal-clear audio-video demonstration. The energy inside the hall was indeed palpable, with a clear message – the future is now, and a new technological era is now upon us.
Let's look at some crucial factors that will shape the evolving 5G ecosystem in India.
5G journey in the context of Digital Bharat
As per PM Narendra Modi, the new Digital India will not just be a consumer of 5G but will spearhead the development and implementation of new technology. This concept is built on four pillars: device affordability, digital connectivity, cost of data, and a digital-first approach for last-mile connectivity.
We believe this is achievable and already visible in India, as witnessed by a tectonic shift in the adoption of new automated infrastructure, business models, local manufacturing, and strategic partnerships.
"By 2025, a digitally driven India has the potential to add $1 trillion to the economy each year. Service providers (SPs) are going to make a significant investment which will help India realize its potential, to cover every city across India, with 5G. Ciena is working behind the scenes with all SPs, with a local presence for more than 15 years. Next year onwards, select Routing & Switching Ciena products will be designed, engineered, and manufactured in India – we're very proud of that."

- Jason Phipps, SVP, Global Customer Engagement, Ciena, at IMC 2022
5G use cases and Industry 4.0
In a multi-vendor, legacy infrastructure ecosystem, we strongly recommend three approaches for successfully bringing Industry 4.0 to life:
Build an adaptive network, which is vendor agnostic (open) with the capability to self-heal, provide real-time analytics, and self-configures during peak network hours/network congestion.
Bring the cloud closer to end-users, humans, and machines, located at the network edge. With the proliferation of data centers and hyperscalers, this change is already underway. The closer data center capabilities are to the edge, the lower the latency. Imagine a remote MRI pausing every 5 seconds in a high latency environment. Not only does this impact the Quality of Experience (QoE) for end-users, but there is also no guarantee the data will be accurate for analysis. Hence, to make some 5G use cases a success, low latency is crucial.
Invest in network slicing, which can empower network operators to support use cases with specific and guaranteed performance requirements to unlock new revenue streams. In isolation, too many network slices add to operational complexity. To address this inherent complexity, analytics-driven automation will be required.
"5G network implementation will differ for each service provider (SP) depending on their approach on architecture & use cases. Ciena is ready to support the SPs to get equipped for crucial steps required for this ecosystem's evolution."

- Digvijay Sharma, Senior Director, Sales, Ciena, at IMC 2022
Edge Cloud approach
Ciena believes operators can achieve new levels of commercial success by adopting and implementing edge cloud. 5G-enabled Industry 4.0, online gaming, and the metaverse, to name just a few, are key applications that will profit from the benefits of edge cloud. These include benefits such as lower latency and reduced long-haul network costs, through physically locating storage and compute assets closer to the network edge where content is both created and consumed. This will give rise to new business models and more complex traffic flows between edge data centers that will benefit from an adaptive network approach.
Service providers must partner hyperscalers and data center operators to develop a profitable business model that is affordable to consumers of cloud resources. This is the catalyst for the increased adoption of Network-as-a-Service (NaaS).
"Network-as-a-Service (NaaS) business models can be structured around consumption, which will help NaaS move upwards in the value chain for enterprises. Especially for medium sized enterprises, where they can get a one stop for all services such as hardware, software, management tools, licenses, and lifecycle management services into one subscription, allowing them to focus on their core business functions."

- Vikram Anand, Senior Director, Sales, Ciena, at IMC 2022
Revenue sharing and new partnerships in an automated ecosystem
Reducing the Total Cost of Ownership (TCO), OPEX, and CAPEX is ultimately the main goal of a profitable business case while focusing on economies of scale, QoE, and affordability for end-users. Given the industry size, the number of stakeholders is ever-increasing. The challenge is that the share of the overall market pie is divided by more stakeholders, which will consequently lower revenues, and potential profitability, of individual players. The opportunity is that this is a potentially lucrative way to grow revenues by creating ecosystem partnerships in new and emerging target markets.
"The number of stakeholders (OEMs, SIs, hyperscalers, data centers and more) in the telecom ecosystem is increasing – which will impact the business aspect or money flow in the system. In parallel, the flow of data can be different too. This brings us to two challenges which require our attention as a consortium – 1) consumer affordability in the price sensitive Indian market and 2) fair balance of monetary flow in the ecosystem. This balance will lead to a profitable business and a sustainable business model."

- Gautam Billa, VP, International Sales Engineering, Ciena at IMC 2022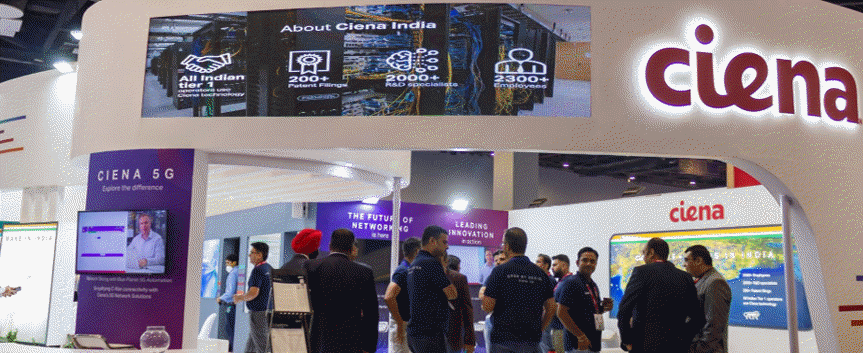 Ciena's booth at IMC 2022
Looking to the future
As India envisions a crucial role in developing and leading the 5G revolution, all operators and stakeholders must work in tandem to create a profitable ecosystem, leverage local manufacturing, and create a winning network architecture built on a virtualized, cloud-native approach.
Ciena strongly supports the Digital Bharat and Make in India vision. Our recent partnership with Chennai-based Flex has added additional manufacturing capacity for our routing and switching portfolio in India, which can potentially accelerate delivery schedules. With a local presence of over 15 years, a vast R&D facility (the largest outside of Ciena's North America facility), 2300+ employees, 2000+ R&D specialists, and 200+ patent filings, it's no wonder that all Tier-1 operators use Ciena technology.
We have the expertise and know-how to ensure a profitable business case to make your vision of the future a reality.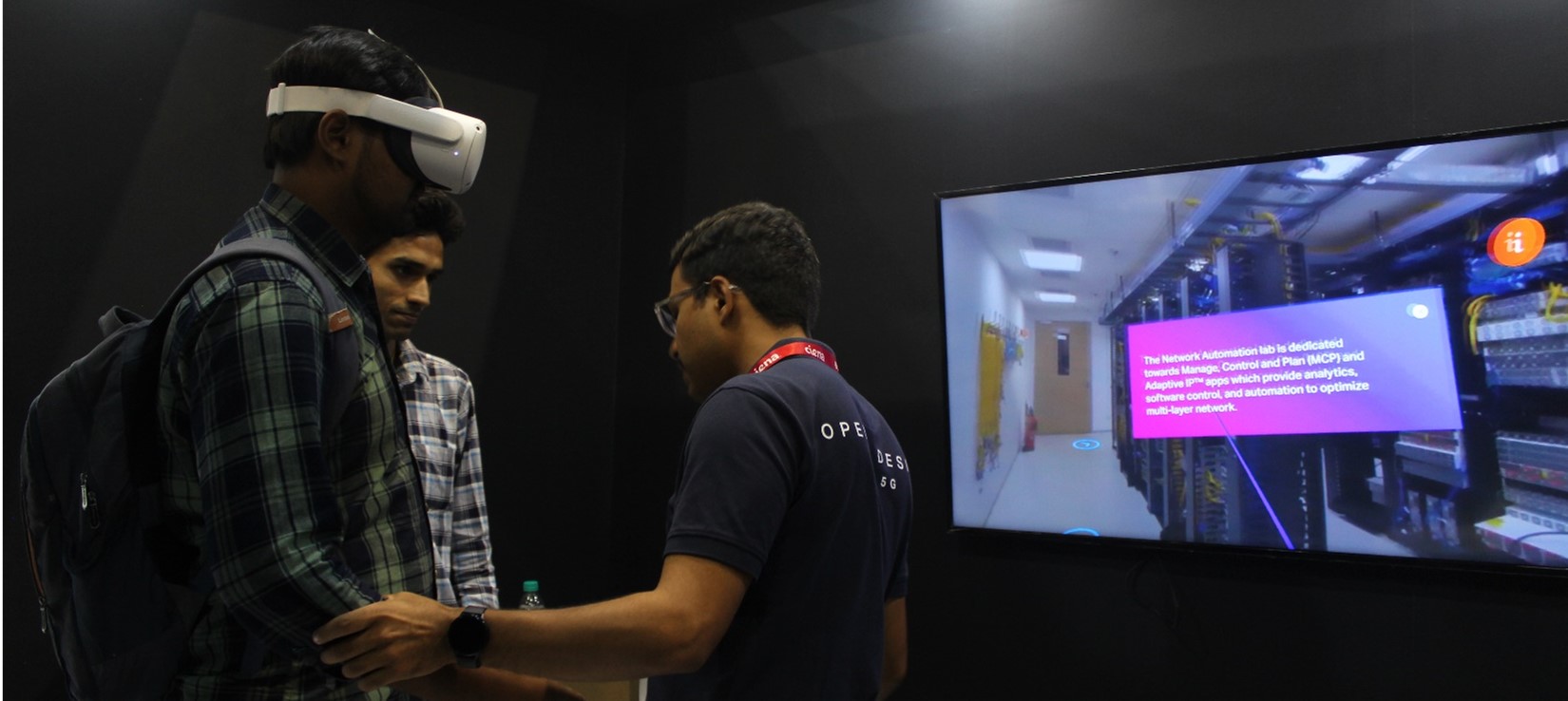 Ciena showcases its vast R&D facility in Gurugram, through VR experience, at IMC 2022