The rise of SD-WAN services in India
SD-WAN has never been so relevant for India as it is today. The stage is all set for SD-WAN services to compete with mainstream connectivity options such as traditional MPLS-based VPNs at a time when enterprises are struggling to keep up their organizational productivity for an ultra-mobile workforce and control costs. This article was originally published in Voice & Data.
Service providers and SD-WAN vendors have been promoting the technology vigorously over the last few years, albeit with limited success, particularly in India. Some of the reasons as cited by customers and service providers for the limited uptake of SDWAN were:
Lack of significant business benefits over traditional connectivity methods
Solution complexity
Compatibility issues with existing WAN deployments; application requirements and backward integration with legacy technologies
The business benefit models in India have been consistently evolving in the last couple of years, and more and more enterprises are switching to cloud-first strategy. This will surely accelerate the adoption rate of SD-WAN services considerably in India.
However, the complexities and compatibility aspects of the existing SD-WAN solutions points to one thing and that is "No one size fits all". From a service provider point of view this poses a unique challenge and that is to source and manage more than one SD-WAN solution that could meet specific customer requirements. This is by no means an easy feat to achieve.
Challenges for managed SD-WAN service providers
Various aspects decide the suitability of a SD-WAN solution to enterprises including sectoral relevance such as finance, IT, manufacturing etc., cost, manageability, feature and functions.
Managed service providers (MSP) have a unique challenge here i.e. to address these varied solution aspects either through one or more cookie cut solutions and be able to flexibly customize a given solution to suit a customer specific requirement. Also, every SD-WAN solution out there in the market uses proprietary implementations, making it even more difficult for MSPs to create one common service platform to control and manage SD-WAN services.
In a nutshell, for the MSPs to be able to successfully commission and operate managed SD-WAN services, they need to overcome two dominant challenges:
Be able to control and manage one or more SD-WAN solutions suiting to variety of customer requirements. This has direct implications on cost, integration and skillset availability.
Ensuring the SD-WAN service layer is aligned with the underlay infrastructure it is dependent on.
The challenges for a MSP offering SD-WAN services are depicted in the following diagram.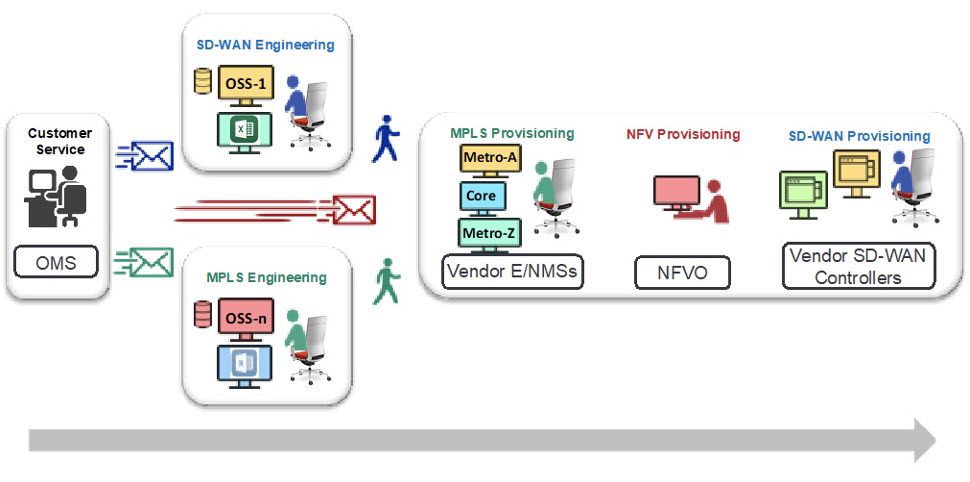 As shown above, the end to end workflow which starts with receiving a customer service order (CSR) to commission a SD-WAN service goes through the following key steps:
Decomposition of the service order template received from an order management platform into pre-defined executable tasks.
Delegating the tasks to individual teams or systems for execution.
Provisioning the underlay network through respective network vendor NMS/EMSs.
Commissioning the enterprise edge, e.g., the CPE that is either a SD-WAN appliance or combination of multiple appliance both physical and virtual (Virtual Network Functions).
Provisioning the SD-WAN overlay services through respective SD-WAN controllers in case of a multi SD-WAN solution provider.
Today, most of these tasks are executed through a semi-automatic approach that requires human intervention, making the process error prone, time consuming, and ultimately leading to compromise of key performance indicators including quality, cost and time.
Creating a common service abstraction and orchestration layer
Service orchestration enables a MSP to create an abstraction layer that can hide the underlying technical complexities of SD-WAN from the business operations layer. In addition, orchestration enables automation of the end to end workflow from order decomposition, to provisioning the service across both the underlay and overlay. The benefits of service orchestration are outlined below-
Abstracts the business operations from underlying infrastructure complexities through an easy to operate the GUI.
Provides intent-driven service orchestration in an automated fashion that alleviates much of the technical complexities and human interventions required.
Allows service provisioning across multiple domains e.g. Physical and Virtual infrastructures.
Agnostic to underlying SD-WAN controller technologies; through a resource adaptation layer the orchestrator interacts with multiple SD-WAN controllers irrespective of any proprietary technologies they use.
The orchestrator can be further expanded to host other use cases apart from SD-WAN services, acting as an umbrella abstraction and automation layer.
The below diagram depicts an SD-WAN service that is automatically managed and controlled through orchestration.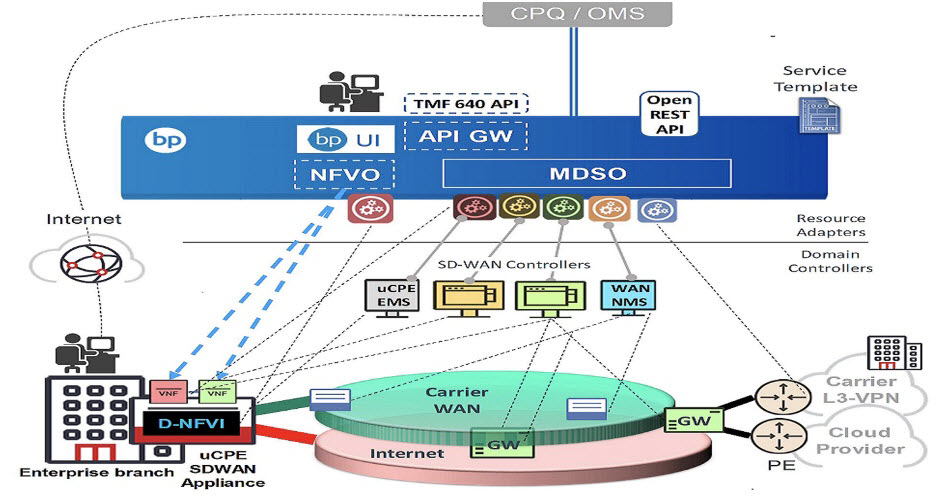 As shown above, this solution includes:
The use of multi-domain service orchestration (MDSO) for automated end to end SD-WAN service life cycle management.
The use of network function virtualization orchestration (NFVO) as an optional component for provisioning virtualized/universal CPE (uCPE) and virtual network function (VNF) life cycle management.
The use of a specialized API gateway to interface with north bound order management systems (OMS) using open Tele-management Forum (TMF) APIs e.g., TMF 640 service characteristics between the order management system and the orchestration layer.
A resource adaptation layers to interface variety of underlying domain controllers including SD-WAN controllers, the WAN EMS/NMS and virtual infrastructure managers.
The automated workflow for SD-WAN service activation is executed following the steps described in the previous section including service order decomposition, underlay and overlay provisioning, (u/v) CPE provisioning and interacting with other OSS components for complete life cycle management.
As can be seen in the diagram, the orchestrator can effectively automate the activation of services through multiple SD-WAN controllers, gateways, and NMS/EMS tools used for underlying network management, irrespective of any vendor and technology implications.
Conclusion
As enterprises in India are gearing up to adopting SD-WAN services to alienate the prohibitive costs, complexities, accelerate cloud adoption. To accommodate an ever increasing mobile work force, there is an impending need arising from the MSPs to automate and manage SD-WAN service life cycle across multiple SD-WAN solutions and underlay networks.
The abstraction models enabled by a service orchestration platform such as Ciena's Blue Planet MDSO, allows the MSPs to achieve their ultimate goal of being able to seamlessly manage end to end service lifecycle automation across multi-domain and multi-vendor scenarios. Blue Planet MDSO does so through a vendor and technology agnostic resource adaptation layer and a cloud friendly service abstraction framework.