Three reasons why 5G is more relevant than ever
5G has never been as relevant in India as it is today. With the surge of people working, learning, and entertaining from home, service providers are seeing an unprecedented demand for data, bandwidth, coverage and speed. 5G is emerging as the most suitable technology that allows service providers to provide a reliable and high-speed mobile broadband network that handles rising demand, says Ciena's Gautam Billa.
This article was originally published in Communications Today.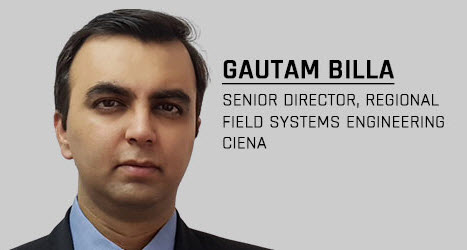 Communications networks have emerged as a lifeline across India as people are forced to stay at home to prevent the spread of the COVID-19 pandemic. Connectivity allows them to continue to work from home, learn, and entertain even as they are unable to venture outside. The recent events have also accelerated the digital transformation of both service providers and enterprises, as they work to support widespread adoption of collaboration tools and applications.
5G is more relevant than ever, as service providers record an unprecedented demand for data, bandwidth, coverage, and speed. As the dependence increases on communications networks to carry out both business and personal tasks, 5G is emerging as the most suitable technology to allow service providers to provide a reliable and high-speed mobile broadband network.
Even though the 5G trials and spectrum auction may have been delayed to 2021 in India, service providers need to start preparing now to be able to handle rising data demand and to provide several new-age use cases like augmented reality, virtual reality, and smart factories, among many others. The time to do so is now, because unlike previous technologies, 5G is much more than just a radio upgrade. It demands fundamental changes in network management, which allow the telcos to cost-effectively address the evolving demands of their subscribers.
Here are three key reasons why 5G is more relevant today than ever before:
Automation for greater efficiency
Automation, supported by artificial intelligence (AI) and machine learning (ML), is crucial to building a reliable, agile, programmable, scalable, and cost-efficient 5G network.
Network automation is critical for efficient management of network slices, which in turn are essential for the successful delivery of differentiated 5G services. A network slice can be managed individually, based on the required capacity, latency, speed, and other factors required to properly support a particular application or user-case. A service provider will potentially need to support a significant number of network slices, and it is not possible to properly manage them without automation.
Further, virtualization is one of the core components of a 5G network, as it allows service providers to achieve greater network performance, efficiency, agility, and flexibility. The service providers can easily scale capacity and network operations with virtualization, as the networks are software-driven, meaning they are more automated and programmable.
Software-driven 5G networks will lead to superior network performance and efficiency. It leads to improved network management and optimized use of network resources.
Maximum utilization of the available resources
With mobile data consumption recording a steep upward curve, wireless service providers need to explore all strategies to enhance network capacity. 5G technology is emerging as a great option to increase spectral efficiency, which is a limited and expensive resource in the Indian market.
In its recent report, CTIA lists out three reasons on how 5G technology helps in more optimum usage of spectrum. Dynamic spectrum sharing (DSS) enables 4G and 5G services to share the same spectrum leading to better utilization of resources. Further, the use of massive multiple-input multiple-output (mMIMO) and beamforming techniques help in better spectrum efficiency. Lastly, the allocation of large spectrum blocks (100MHz or more), which enable 5G attributes, including high-speed and low-latency, is more spectral efficient. Adoption of 5G will allow mobile network operators to cater to a greater number of subscribers, without compromising on the quality and associated user experience.
Further, mobile edge computing (MEC), a concept crucial to 5G, ensures low latency even when the number of users increases on the network. It brings down the infrastructure requirement for the telcos while ensuring that there is no impact on network experience.
Enhanced cost efficiency with 5G
5G brings several opportunities for service providers in that it allows them to offer several new and differentiated wireless services, which add to their revenue streams. Moreover, 5G is a more cost-efficient technology, allowing mobile network operators to bring down their return on investment. 5G technology will ultimately provide a lower cost per bit when compared to 4G, which will allow mobile network operators to transmit more data at the same cost.
5G has the potential to bring down the production cost per bit, allowing service providers to address huge traffic increases by adding capacity in a cost-efficient manner, without impacting the customer experience.
The service providers who deploy 5G now will gain the crucial first-mover advantage, and will be in a better position to address the growing demand for improved speed, capacity, and reliability. The time to upgrade the networks is now to cater to the anticipated increase in data consumption.